The Fijian Government provides policy direction and support to the Housing Authority through various channels.
Most recently it launched the National Housing Policy which saw all housing stakeholders gather to outline a common strategy in order to address our nation's growing need for affordable, decent and quality housing.
Another example of our relationship with Government has been the introduction of the private and public partnerships to develop new subdivisions and to provide grants that allow the Housing Authority to write off home loans of those citizens who are at most risk of losing their houses due to retirement or unemployment.
The online portal serves as a convenient channel for Fijian citizens to access information on the latest news in Government, access press releases and Cabinet Ministers speeches, a directory on public service agencies and missions abroad as well as important documents such as national policies and information on our nations laws.
The website also provides helpful links to other Government departments and application forms for various services.
The iTaukei Land Trust Board (TLTB) was set up in 1940 as the Native Land Trust Board under the iTaukei Land Trust Act known then as the Native Land Trust Act. Its initial purpose was to secure, protect and manage land ownership rights assigned to the iTaukei landowners and to facilitate the commercial transactions that revolve around its use.
Leases can vary from 30 years for agricultural purposes up to 99 years for most other uses including residential, commercial and industrial leases. Some of the lands made available by Housing Authority are under the Native Lease.
Its core business activity is therefore the management of iTaukei lands and it deals with such lands by way of negotiating leases and licenses for their use by tenants and provides related administrative functions for that operation. TLTB receives lease monies on behalf of the landowners and distributes them to the beneficiaries and is also responsible for the management of these funds as trustees.
TLTB are positioned to assist both investors and landowners in bridging the gap to ensure great success for both parties.
The Investment Fiji, formerly known as the Fiji Trade & Investment Bureau (FITB) was formally created in 1980 under the Economic Development Board Act (EDB) Act No.11 of 1980 to "promote, stimulate and facilitate economic development in Fiji".  The Act was amended in 1999 and was renamed as the Fiji Trade and Investment Bureau, now known as Investment Fiji. The Investment Fiji is the marketing arm of the Government of Fiji.
In line with the functions of Investment Fiji as stated in the Economic Development Act, Investment Fiji will continue to provide services and assistance to promote, facilitate and stimulate increased investment and exports.
The investment arm of the country is also responsible for providing support to Housing Authority in relation to facilitating housing development trade visits into the country as well as encourage investment in the housing market.
The Fiji National Provident Fund is a social security savings scheme jointly supported by employees, employers and government. It was set up in 1966 to provide financial security for workers when they Retire at the age of 55.
It also provides two other main contingencies prior to retirement when the member is Incapacitated and is not able to work, and for the financial support of survivors in the unfortunate event of Death of a Member.
Over the years the Fund has evolved into a comprehensive scheme that provides a number of pre-retirement withdrawals to members for home ownership (Housing Assistance), reducing or paying off a home loan, healthcare (Medical Assistance), and Education assistance.
TOP SYMPHONY Sdn Bhd has been awarded in the development of Waila City, a project initiated by the Housing Authority of Fiji (HA), under a Private Participation Partnership arrangement. The vision is to create a new city in Waila that is attractive, livable and sustainable for living, working and recreation. The objectives are as follow:-
To create a self-contained city, with distinctive character, compatible with 21st Century era for new generation to live, work and play;
To provide wide range of housing types within safe, pleasant and attractive living environment;
To provide adequate community facilities at convenience locations;
To provide efficient transport network; and
To provide adequate open space and recreational areas.
The Development Master Plan Layout of Waila City is as below:-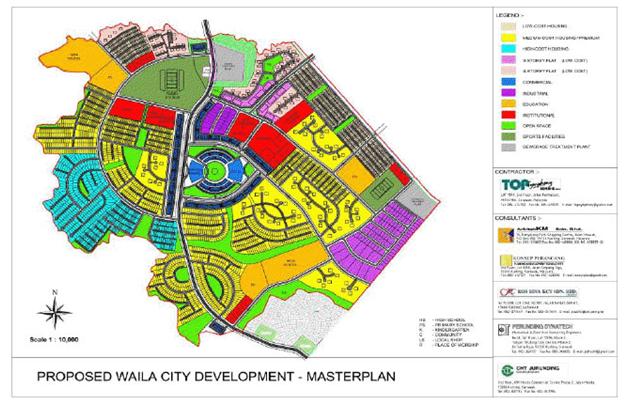 Waila City is divided by a few components such as residential, commercial, and industrial and others where each component has their own design type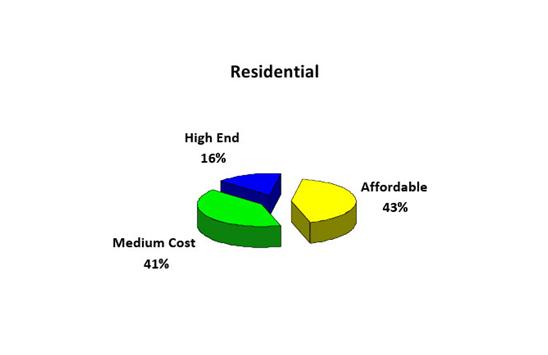 Also included are others local facilities for educational, public and amities, open space and water treatment plants.
TOP SYMPHONY AND HOUSING AUTHORITY
Our partner and Main Developer, Housing Authority of Fiji, is a GLC under the Ministry of Housing. Their main objective is providing houses to the people of Fiji. However, since the past 20 years, Housing Authority has been only selling sub lots and giving out loans to successful house applicant. The purpose of Housing Authority is to develop and produce affordable lots and mortgage financing with attractive loan packages on a competitive basis to all customers with special focus on low-income earners.
The Government's social objectives in relation to housing will be carried out by the Authority for the middle to low-income earners as follows:-
Priority to be given to customers in the target market and with the Public Rental Board in the allocation of lots.
Also, special assistance shall be given to squatters and those not having their needs adequately met in the private sector.
Continue to develop innovative ways such as mortgage debt restructuring to assist defaulting customers who face financial hardship to meet current loan repayments and to enable them to retain their homes.
Founded in 1950, is a core member of China Railway First Group Limited in the Fortune Global 500 Companies. CRFG possess the super grade qualification of general contracting for municipal engineering and house building engineering, first grade qualification of upgrading for railway track laying engineering ,highway pavement engineering ,tunnel engineering and hydraulic tunnel engineering ,qualification of professional contracting for urban rail transit engineering as well as qualification for international contracting, labor service and business.
The business has spread all over China and extended more than 10 countries abroad. Over the past 58 years, the Group has completed numbers of fine quality projects and won several hundred of prizes and awards at national, provincial or ministerial level.
China Railway First Group had ISO9002 Quality System Certification in 1998 and Quality, Environment and Occupational Health Certification in November, 2003. CRFG has been rated "No.1 among Chinas Top 500 Construction Enterprises", "Chinese clients' satisfactory Construction Enterprise", "Outstanding Enterprise in National Engineering Construction Quality Management", Social Credit AAA Grade of Engineering Construction in China and Outstanding Enterprise for National QC Group Activity "by national relevant ministries and industrial association.
The Corporation enjoys the fame as the "number one corporation in the world". The Corporation will stick still to the strife of "sincerely to initiate and strive to be first' and persist in the style of work of "exquisite and efficient, practical and perfect' to incorporate with friends from all walks of life to create more valuable buildings for the happiness of mankind.
CHINA RAILWAY AND HOUSING AUTHORITY OF FIJI
China Railway First Company Ltd has signed a contract with Fiji's Housing Authority (HA) and Public Rental Board (PRB) for the construction of low cost housing in three Suva suburbs.
The contract is expected to cost F$70 million (US$37 million), which will be sourced via a soft loan from China's EXIM Bank at an interest rate of two per cent over 20 years.
Of the F$70 million, F$50 million (US$26 million) will be allocated to the Authority, which will be further split for land development F$35m (US$18 million) and construction of the housing units at Tacirua F$15m (US$8 million) .The remaining F$20 million will be allocated to the PRB for the construction of housing units in Raiwai and Raiwaqa.
"This is the first step out of the way," Housing Authority chief executive Alipate Naiorosui told Fijilive.
On Its housing projects, Mr Naiorosui said they were looking at 1050 singular lots and about 400 to 450 housing units.
"So we're looking at about 1500 families to be housed on completion," he added.
"The demand is there right now. In fact it is more than supply. For example, in Tacirua East, we have 1050 singular lots but there are already more than 2000 applicants."
Mr Naiorosui said both the HA and the PRB were fortunate to have accessed funding at a low interest rate given the current high cost of accessing funds, particularly in the local market.
China Railway chairman Sun Yonggang told Fijilive the company won the tender ahead of many other Chinese firms also vying for the contract to carry out low cost housing projects in Fiji.
He said labour and raw materials will be sourced locally and from China.
There are seven Chinese experts currently working on the Naqali bridge in Naitasiri with another 50 more to be brought in for the housing projects, said Mr Yonggang.
"Our sole role in this contract is to manage the housing project. We do the design and construction and we will be assisted by the Fiji Government to prepare the documentation, which is required by the EXIM Bank," he adds.
CURRENT UPDATES
The Tacirua East Stage Two project is on schedule to deliver the first 67 residential lots in phase 1B by the end of the year as part of the four year 170 acre housing development project.
Housing Authority chief executive officer Alipate Naiorosui said, "The progress of work on the site is slightly behind schedule due to bad weather in the first half of the year and momentum is expected to pick up in the next six to twelve months".
The Authority signed a contract in June, 2010 with its development partner China Railway First Group Limited to deliver the housing subdivision within the allocated budget and the required time frame.
Mr Naiorosui said, "China Railway First Group Limited is working overtime into the night and on weekends to ensure that we finish the project on time in order to deliver approximately 500 lots by 2012 and complete the Tacirua East Stage Two subdivision by 2013″.
The Water Authority of Fiji has successfully completed the construction of two water mains along Khalsa Road at a cost of $1.2m and is expected to complete the construction of a sewer truck main by August, 2011 while negotiations continue to relocate a high voltage power line by the Fiji Electricity Authority.
He added further that, "Currently our technical people are working with the Department of National Roads to ensure that the roads within the subdivision meet approved standards. Also a few water and sewer mains require relocation and construction by the Water Authority".
Housing Authority wishes to acknowledge the support and assistance of the Water Authority of Fiji as well as the Public Works Department.
In total, the Tacirua East Stage Two subdivision will produce 1050 fully serviced residential, commercial and industrial lots and will cater for all categories of low, medium and high income home owners.